Don't miss the Open Forum with facilitated breakout sessions to discuss and share ideas on how we can work together to identify gaps, needs, opportunities, priorities, and actionable goals to enhance overall health, well-being, quality of life, and advancement of AANHPI in Ohio. We are the most socio-economically heterogeneous racial/ethnic group with more than 100 different languages. The lack of disaggregated data and underrepresentation in clinical trials are among several challenges that limit our understanding of the complex risk factors. We will reconvene and conclude with strategies and initiatives for the upcoming year.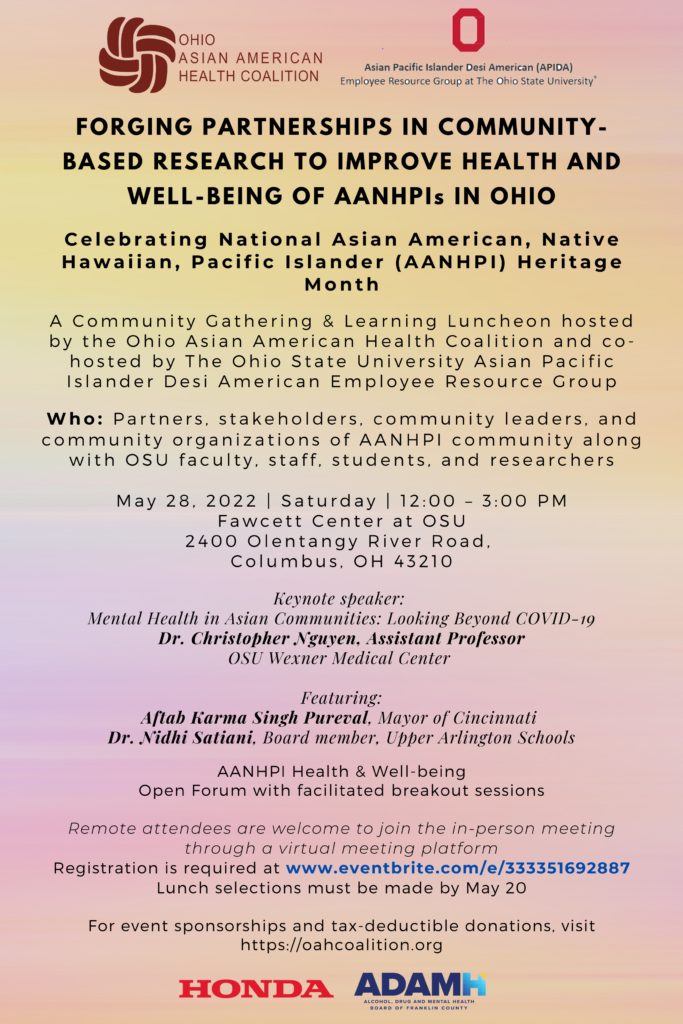 The goal of the event: This event aims to promote equity and collaborations to support the mission of the OAAHC and APIDA ERG.
OAAHC strives to eliminate social inequities that contribute to disparities in the quality of life of Ohio's Asian American and Pacific Islanders (AAPI) through community research, education, and advocacy
One of the 4 goals of APIDA ERG is to accelerate APIDA health equity through community-focused research in partnership with community organizations and to amplify the work of APIDA-identifying researchers at The Ohio State University
Speaker Details:
Aftab Karma Singh Pureval. Mayor Pureval is an American attorney and politician serving as the 70th Mayor of Cincinnati, Ohio since January 4, 2022.
Dr. Christopher Nguyen. President-elect of the Asian Neuropsychological Association (ANA), which is dedicated to providing excellent, culturally sensitive neuropsychological services for all individuals of Asian descent.
Dr. Nidhi Satiani, board member of Upper Arlington Schools, who drives community-level change through her experiences as a public health professional, healthcare provider, and engaged parent.
Contact & Other Information:
For event sponsorships and tax-deductible donations to OAAHC, visit https://oahcoalition.org
In case of questions related to the event, e-mail [email protected] or call 614-593-1455
In case of questions regarding the APIDA ERG or membership form to join, please email [email protected]
Member organizations of Ohio Asian American Health Coalition include Asian Services In Action, Inc., Asian Community Alliance Cincinnati, Asian American Council of Dayton, Bhutanese Community of Central Ohio, Lao Volunteer Donation Organization, Asian Festival (Columbus), and Asian American Community Services